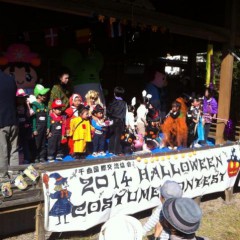 19日にハロウィンin戸倉上山田温泉2014が行われました。子供達220人ぐらいが集まって、大騒ぎでした。
仮装コンテストに地元のゆるきゃら杏姫、ねず子、ヤシロウが来てくれて、沢山のプライズが配れました。
その後、温泉街のお店・宿60軒がお菓子を提供してくれて、子供達が5コースに分けてトリックorトリートで回りました。
会場に戻ったら、ハロウィンゲームをやったり、かぼちゃランタン作りしたり、出店でケバブを食べたり、
そして、
私とうちの子供達が担当したお化け屋敷にも入ってくれた。
今年は特別でイベント直前に千曲川の向こう側の戸倉体育館に仮装したままの参加者20人ぐらいがプロバスケの信州ブレイブウォリアーズの試合前でハロウィンパレードをやりました。プロの選手と会えて、貴重な体験でした。
これで17年目のイベントでした。主催者の千曲国際交流協会がNPO法人になりましたので、来年は更に大々的に出来そう!
Togura Kamiyamada Onsen's Halloween Party took place on the 19th. Around 220 kids dressed up in scary costumes and enjoyed the costume judging contest, trick-or-treating from the 60 businesses and inns that provided candy, halloween games and — the haunted house! My kids and I with some help from friends ran the haunted house this year.
Special this year was around 20 of the participants first crossed the river and did a Halloween Parade at the Togura Gymnasium ahead of the Shinshu Brave Warriors pro basketball game. We even got to do high-fives with some of the players.
千曲国際交流協会 Chikuma Int'l Culture Exchange Assoc.