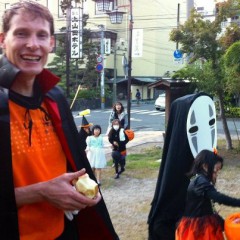 2014年のハロウィンパーティーin戸倉上山田温泉は今年で17回目。更に進化してきましたので是非に参加して下さい。今年の内容:
*プロバスケのブレイブウォリアーズの試合会場で仮装行列とブレアからの特別賞 ☆新しい☆
*仮装コンテスト (ベスト仮想の15人が素敵な商品券を当たる!)
*ゆるきゃら大集合 ☆新しい☆
*トリックorトリート巡り (数コースに分けて、温泉街を巡りながらお店や宿からお菓子をもらう。約60軒がお菓子を提供する予定)
*かぼちゃランタン作り (かぼちゃ販売[有料]も)
*お化け屋敷 (怖いぞ!)
*ハロウィンゲーム
*ケバブ屋台 [有料]
日付: 2014年10月19日(日)
時間: 13:30-19:00 (受付13:00~)
場所: 戸倉上山田温泉カラコロ足湯
料金: 参加は無料 (かぼちゃとケバブぐらいが有料)
予約: 必要 事前に千曲国際交流協会にご連絡を。www15.plala.or.jp/ciea/…
注: ボランティアースタッフも募集しています。
Halloween Party in Togura Kamiyamada Onsen 2014 — 17th Annual! Special new attractions added to this year's event:
*Costume Parade at the Brave Warriors pro basketball game *NEW*
*Costume Contest with prizes for the top 15 costumes
*'Yuru-Kyara' mascots including Chikuma City's Anhime to attend *NEW*
*Trick or Treat (Approx. 60 shops and inns to provide candy for the kids)
*Pumpkin Carving (pumpkins available for purchase)
*Haunted House (Even scarier this year!)
*Apple Bobbing and other Halloween Games
*ニコちゃん ケバブ kebab van (food for purchase)
Date: October 19th (Sunday)
Time: 13:30-17:00 (Sign-in starts 13:00)
Place: Kara-Koro Footbath
Cost: Free (except for buying pumpkins and/or kebab)
Reservations: Required. Contact the Chikuma Int'l Exchange Assoc. in advance. www15.plala.or.jp/ciea/
NOTE: Volunteer Staff Needed!