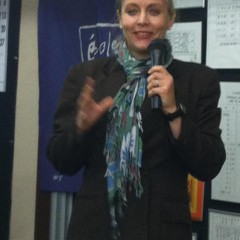 長野で活躍している欧米人として、私の大先輩のSarah Marie Cummingsがいます。25日は長野市松代地区の「夢空間」と言う町興しNPOの勉強でSarahさんの講演会が開催された。私は10月の同じ勉強会で講師として呼ばれていますので、どういう集まりかも含めて、Sarahさんのお話を聞く為に参加させて頂きました。
Sarahさんは小布施で町興しを全面的に動いていて、有名です。月一回の勉強会「Obusession」や小布施見にマラソンを立ち上げたとは知っていました。しかし、お話しを聞いたらびっくりしたのはもっともっと広い活動している事。作り酒や業界の中で木の桶を使う運動とか、小布施堂でお正月の餅つき大会"Mochivation"など、様々の運動なされて、感心しました。
更に感動したのは提案する度に反対声や出来ない理由が沢山出る訳。「非常識だ」との断りに負けないで、その壁を越えて毎回毎回形に出来たのはとにかく凄い。
一つの事例は見にマラソン。コースの途中で国道の橋があった。下は田んぼ。国道を渡るのは無理。田んぼの中を走る訳に行かない。
どう考えても駄目。
そこで、Sarahさんが思いついたのは、田んぼと国道の橋の間に足場を組んで仮設な橋を作る事。
毎年に仮設の橋を立てて、マラソンが終わったら取り外して、次の年にまた組んで…7年間続いたみたい。
そのうち、町が常設な橋を作った。
非常識が常識になった。
あんな可愛いらしい声でしゃべるSarahさん、尚且つ所々でおやじギャグも入れて、「台風」というイメージは浮かばない。しかし、Sarahさんはあまりにも色々なアクションを起こしていて、「台風娘」とも呼ばれているようです。「いつも反対されて、疲れないですか?」と聞いてみた。「皆がすぐに賛成すれば、逆に甘すぎたかと不安になる」と。
驚き!
感激!
Sarahさん、色々と学ばせて頂いて、有難うございました!
10月23日は今度、私の出番です。松代、宜しくお願いします。
Sarah Marie Cummings became famous while working for the sake brewery Obusedo. Matsushiro, a district in neighboring Nagano City, recently invited her to give a talk on ways to attract visitors. Since I am invited to be the guest speaker in October, and because I had always wanted to hear Sarah-san, I took the time to attend the talk.
I had known about her activism in Obuse with creating events such as the Obusession lecture series and the Obuse Mi-ni Marathon. But she explained about many of her other endeavors as well, such as getting the sake brewing industry to go back to using wooden casks, or having her company sponsor a New Years mochi-pounding event called, with Sarah-san's classic punny sense, "Mochivation".
What she kept coming back to was the need to make the unrealistic, real. One great example was during the planning for the marathon, the course needed to cross a busy national highway. It was at a section where the highway bridged a rice field. Everyone said it was impossible — unrealistic. Her solution: to build a temporary bridge using scaffolding over the rice paddy and under the overpass. After the event, the scaffolding was taken down, then put up again the next year and taken down again. This went on for 7 straight years, until Obuse Town built a permant pedestrian bridge.
The unrealistic had become reality.
With her cutesy voice and plethora of Japanese-English puns, it was hard for me to picture her as the "Blonde Typhoon" that she has become to be called because of her supposedly overambitious activism. I asked her if she ever tires of people not agreeing with all of her proposals. Her answer: "To the contrary, if too many people agree, I start to wonder if my proposal was too bland."
Amazing!
Sarah-san, thanks for the inspiring talk!
On October 23rd, it will be my turn to hopefully inspire Matsushiro!
夢空間松代NPO Matsushiro Yume Kukan