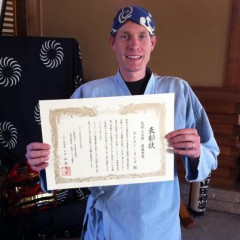 青年会議所の長野県ブロック大会が9月15日に行われた。目玉イベントは「信州人大賞」でした。長野県に貢献している24人と団体が申請して、その内の五人が選ばれた。
私が中心で作った長野県旅館ホテル組合青年部の事業「ユニーク長野」のアプリを基にして申請してみた。しかし、他の皆さんの活動を見たら、確率が低いかなと心配でした。
その結果は?
発表の時に自分がもう4人と舞台に登りました!ユニーク長野の影響が認められたようです。
今年度はユニーク長野が長野県観光課国際室に取り上がれて、言語も項目も拡大になる予定。更に信州に貢献になる!
The Nagano Branch of the JCI held their annual meeting here in Chikuma City on Sept. 15th. The main event was the Shinshu-Jin Prize, a cash prize award given out to 5 people who contribute the most to Nagano Prefecture.
I was among the 24 people / groups who applied for the prize. The Unique-Nagano app that I worked on with the Ryokan Junior Association was the basis of my application.
Looking at the caliber of the other applicants, I figured my chances of being selected were pretty slim. But at the final presentation, I got to join 4 others on the stage.
This year, the prefecture's Tourism Dept. has taken the Unique Nagano project under its wings and will increase the number of entries as well as languages. So my contribution to the prefecture is bound to become even greater!