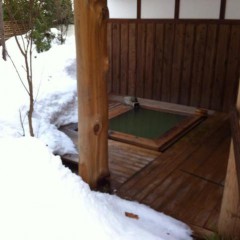 亀清旅館の貸し切り露天「しなの風呂」の写真です。15日の史上初の70cm積りで完全に雪で囲まれました。
お掃除しに行ったら、まずはは雪をどける作業。
しかし、雪と温泉の両方を楽しめるぱらだいすになりました。
Kamesei Ryokan's outdoor family bath "Shinano-Buro", surrounded by snow from the Valentine's Day storm.
I went to clean the bath, but first had to clear a path to it.
For those who like to enjoy jumping in the snow before a soak in an onsen bath, now is your chance!

もっと読む