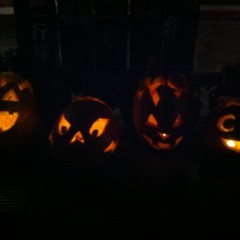 今年のハロウィンは亀清旅館の玄関の周りにかぼちゃをまた飾りました。先日は我が家族がお客様と一緒にかぼちゃを彫って、ランタンを作りました。
(あるお客さんは去年に泊まった時に一緒に作りました。あまりにもよい思い出になった様で、今年も作りたかったらしいです。しかし、亀清は偶々満室だったので、違う宿にお泊りになりました。それでも、かぼちゃタンタンを作りに来て頂きました。)
かぼちゃランタン作りは私たちアメリカ人のDNAに付いております。来年のハロウィンはまた作りますので、ご一緒にどうぞ!
Once again for Halloween our entrance here at Kamesei Ryokan has been taken over by pumpkins. The other day our family, along with some guests, carved jack o' lanterns.
In fact, one family happened to stay at our inn last year when we carved the pumpkins and enjoyed it so much that they wanted to come again this year. Unfortunately we happened to be fully booked, so they stayed at a nearby inn, and still came over at night to make the jack o' lanterns with us!
For people like me who grew up in the States, carving pumpkins at Halloween is in our DNA. Next year won't you come and make them with me?