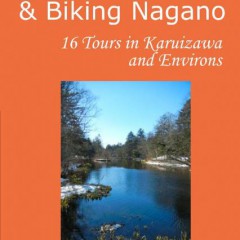 戸倉在住のPeter Ninnesさんはまたやってしまいました:新しい「長野県ウォーキング・ハイキング・サイクリングガイド」を出版しました。今回は軽井沢と周辺です。千曲市番と上田市番に続いて、これで3つ目の本です。
外国人は日本で町歩きや山登りをしたくても、情報が少ない。Peterさんは長野の町の歴史や山の自然が大好きで、回りながらそのうんちくを調べて、そして自分で本を作って、出版しています。
これで長野に来る外国人がより深く信州を楽しめると思います。
Aussie expat and fellow Go-Nagano ambassador has been at it again. He just published his 3rd book in his Hiking, Walking & Biking Nagano Guide — the Karuizawa edition. Joining the Chikuma City and Ueda City editions, Peter's guide gives detailed information on lots of well-researched courses from walks around town to vigourous hikes in the nearby mountains.
Karuizawa is perhaps best known nowadays for its outlet shopping mall. But what drew people here originally is the beautiful natural scenery, such as graceful Shiraito-taki waterfall and awe-inspiring Mt. Asama volcano. Western missionaries from Tokyo started coming here to escape the heat of summer and Karuizawa gradually developed into a resort town here among the mountains of Nagano.
Peter's 16 courses for Karuizawa and surrounds will help you explore the area's natural wonders as well as take you through the history of the town's origins. Many of the courses are well-suited for bicycling, and you'll find many rental cycle shops in Karuizawa.
Get a copy of Peter's Karuizawa Guide (now available in electronic form for downloading to your smartphone or tablet) and use it to gain a deeper understanding of this popular corner of Nagano Prefecture. And be sure to check out the Chikuma City and Ueda City guides as well!
Peter Ninnes' Walking, Hiking & Biking Guide to Karuizawa