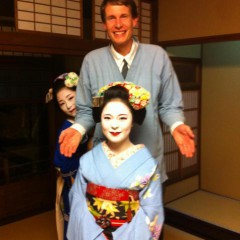 長野県と京都府のそれぞれの旅館組合青年部の交流事業で、28日に京都に行ってきました。
The Screenと言う最新デザイン宿の見学に社長の講演、
京都の組合の外国人観光客の取り組み、
そして長野県のインバウンド事業の発表。
発表者は何と、私!
その夜は皆で祇園のお茶屋桝梅に行きました。
伝説の舞妓さんと座敷遊び。
とにかく、感動!一生忘れられない。
この外国人の私だけだと思ったら、京都の連中さえ写真ぱしぱし。
現代の日本はクールが沢山あるけど、芸子さんはその最も!
On October 28th, the Kyoto Ryokan Junior Assoc. invited the Nagano team to join them for a seminar. We got to take a tour of The Screen, one of the most fashionable 'design hotels' in the world, as well as a talk by the owner. Then the Kyoto guys made a presentation on their projects for guests from overseas. Finally, our Nagano team made our presentation, with Yours Truly doing the presenting.
That night, we went to the Gion district and the Kyoto team treated us to the ochaya Masu-ume, where we were entertained by maiko.
It was an unforgettable experience — totally mesmerizing. And I thought it was just me, the foreigner who felt so, but even the Kyoto guys couldn't stop taking pictures!