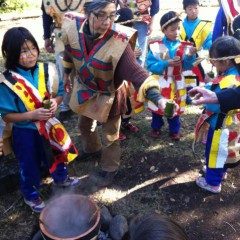 戸倉上山田温泉から車で約7分の「さらしなの里」縄文古代体験パーク・歴史資料館の縄文祭は10月27日に開催された。子供達を連れて、何年ぶりに参加してみました。相変わらず賑やかなイベントで楽しかった。
マッチやライターを使わないで火をおこす…
チェインソーを使わないで木を切る…
IHではなく土鍋と墨でトン汁を作る…
現在の生活はどれだけ楽化、うんと感じました。
一番なのは魚塩焼きの所。釣りから串焼き迄、全部は子供達が自分でやっていた。釣りと焼きは良いとして、その間が問題:釣った魚を石で殺して、その内臓を取る事。
貴重な経験や。
歴史資料館で通年は一部の体験ができるので、さらしなの里古代体験パークへお出かけ下さい。
Nearby to our onsen town Togura-Kamiyamada is the Sarashina no Sato Jomon-era History Museum. (Is a history museum of a prehistoric era an oxymoron?) On October 27th, they held their annual Jomon Festival.
Starting a fire without matches or a lighter…
Chopping down a tree without a chainsaw…
Making a stew not with an IH cooktop but with a clay pot over coals…
The various activities offered during the festival served as an important reminder as to how easy our lives are today.
The activity that arguably had the most impact was the fishing pond, where kids got to experience the entire process from angling for the fish to skewering it and cooking it over coals. The fishing and cooking part were okay — it was the process in between that was gruesome. The kids had to figure out how to kill the fish they caught, and how to clean out the guts.
I can see where vegetarians come from!
Sarashina no Sato offers various Jomon-related activities throughout the year, so come and check it out!