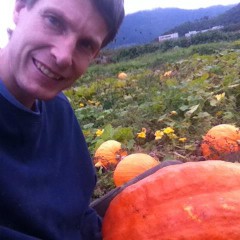 戸倉上山田温泉のハロウィーンパーティーは土曜日、10月26日に行われます。台風は直撃(?)だが、ハロウィーンってご存知の様に、
台風より怖い!
なので準備はてくてく進んでおります。今日は松代の農家、花見さんのかぼちゃ畑へ行って千曲国際交流協会の皆さんとかぼちゃを採りに行きました。
これからはお化け屋敷の作って、温泉街のお店や旅館約60件がトリックorトリートの為にお菓子を用意して頂いてあるし、地元の子供達は200人が申し込んできたので、
今年はまた戸倉上山田温泉でハロウィーンで盛り上がります!
台風にも負けずに!
This year's Halloween Party in Togura-Kamiyamada Onsen will be held on Saturday 26-October. We are expecting an unwanted guest, though: Typhoon Francisco. But as you know,
Our Halloween Party is scarier than a typhoon!!!!
Together with the Chikuma Int'l Exchange Assoc. members, I went to Farmer Kenmi's pumpkin patch today to pick up the pumpkins for carving. And this evening I will work on making the Haunted House. Meanwhile, 60 local businesses are standing by with candy for the trick-or-treating. And over 200 kids have RSVP'd.
This year's Halloween Party promises to be bigger, if not windier, than ever!