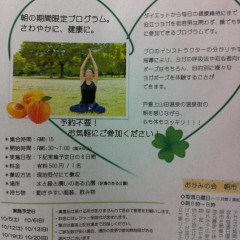 「温泉」って寛いで、良いお湯に入って、美味しいお料理を食べて、ゆっくりリラックスして…朝ヨガ?!
2013年10月の毎週土曜日と日曜日の朝6:30から、カラコロ足湯の公園で朝ヨガが行われます。
私も頑張って、初日に参加しました。生まれてから初めてのヨガ。先生を真似しながら、その綺麗な朝の空気を吸って体を伸ばしたりして、朝から良い気分になりました。
温泉で朝ヨガはありやなと思いました。
旅館青年部仲間の荻原館の健太君がこの事業を計画してくれました。感謝感謝!
An onsen is a place to relax, soak in the hot springs, indulge in some gourmet food, and overall forget the hectic pace of one's normal, stressful life. Add to that … Morning Yoga!
Every Saturday and Sunday morning at 6:30am during the month of October, 2013, morning yoga sessions will be held in the main park in the center of our onsen town, Togura-Kamiyamada.
I tried it myself (my first time for yoga in my life ) on the first day, and came away blissfully relaxed. What a great way to start a day!