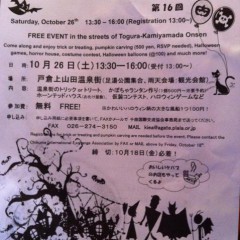 今年は戸倉上山田温泉にお化けがまた来ます。
魔女や海賊も。
というのは、
ハロウィーンパーティーin戸倉上山田温泉2013年がやってきます。
今年は特別で土曜日の開催:10月26日、13:30~
場所はカラコロ足湯と能舞台のある水と緑と・・・のある公園。
千曲国際交流協会の主催で実行委員長は私がまた務めさせて頂きます。
地元の子供達約200人が温泉街を回って「お菓子をくれないと悪戯をするよ!」ってトリックorトリート(お店は60件もお菓子が提供してくれる)や、
仮装コンテスト(今年は更にプライズが増えました!)
お化け屋敷
かぼちゃランタン作り
など、様々な楽しみとゲームがございます。
是非、一緒に戸倉上山田温泉を怖くしましょ!
Ghosts will once again descend upon Togura Kamiyamada Onsen.
Witches and pirates, too.
It's time, once again, for Halloween Party in Togura Kamiyamada Onsen! For 2013, the event will be held special on a Saturday, October 26th, from 1:30pm at the Mizu to Midori to Uroi no aru Koen (park) in the middle of our onsen town.
Approximately 200 kids from around the area will participate in the massive trick-or-treat (60 local businesses will be handing out candy), the costume contest (with even more prizes this year), the extra-scary haunted house, pumpkin carving and other games and activities.
Come and join me in the scary fun — this year I am the event chairperson again!