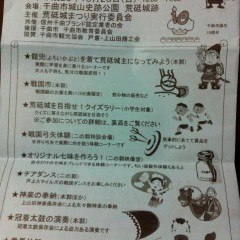 戸倉上山田温泉の上の山城「荒砥城」は年に一度に無料で開放され、祭りが開催される。2013年の荒砥城祭りは10月20日(日)に行われます。戦国時代と触れ合える体験は様々あり、特に子供達が侍スプリットになれる。
普段は荒砥城祭りが戸倉上山田のハロウィーンパーティーと重なるので、ハロウィーンの実行委員長としてなかなか荒砥城まで上がれない。しかし、今年はハロウィーンの開催日がずれたお蔭で、私がお城の方で手伝いが出来そう。
従って、一生に行きましょう、荒砥城祭りへ!
Above our onsen town Togura-Kamiyamada stands the mountain fortress Arato-jo. Once a year the castle is opened for free to the public for the Arato-jo Festival. For 2013, the festival will be held on Sunday 20-October. There will be plenty of activities especially for kids to experience what samurai life was like.
Normally the Arato-jo Festival and the Togura-Kamiyamada Onsen Halloween Party are held on the same day, and as I always running the Halloween deal, I can never participate up at the castle. However, this year Halloween's being moved a different date, freeing me up to help at the castle.
So come and join my for this year's Arato-jo Festival!