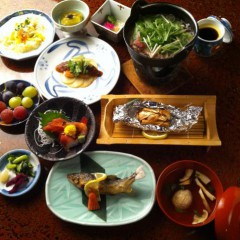 雑誌の写真撮影があり、ついでに取りました:
亀清旅館・Chef武井の9月後半会席料理。メニューは下記です。
A couple of photographers came to do a photo shoot for a magazine. I got to sneak in this picture using the pro lighting of Kamesei Ryokan's Chef Takei Kaiseki Dinner Menu for late September. Menu description as below:
旬の物 焼き茄子 Baked Eggplant
酢の物 佐久鯉南蛮漬け Spicy Nanban-seasoned Saku Carp
サラダ 生湯葉サラダ Salad with Yuba (tofu skin)
蒸し物 Big栗(吃驚)茶碗 Surprise Chawan egg custard
つくり かじき、甘海老、蛸 Kajiki Tuna, Shrimp, Octopus
焼き物 鮎塩焼き Salt-rubbed Grilled Ayu Sweetfish
台の物 4種類の茸鍋 Hot Pot with 4 Varieties of local Mushrooms...
もっと読む