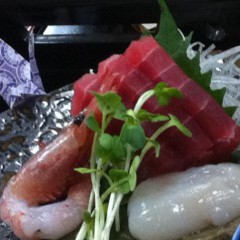 上山田温泉旅館組合の総会が晴山さんで行われた。その後の懇親会でこんな豪華な刺身が出ました。折り紙の鶴は良い演出ですし。大変ご馳走様でした。
ちなみに、亀清旅館で外国のお客様に会席料理を出す時に必ず聞かれます: 「どこから食べたら良い?」
つまり、あんな品数に慣れていない訳。旬の物、酢の物、お造り、台の物、蒸し物等など、あまりにも多い品数で驚きます。どこから食べるのに悩んでしまう。
そこで、私がいつも答えるのは、
二つな考え方がある。
一つは温かい物から。焼き魚とか茶わん蒸しは冷めない内に食べた方が美味しいから。
もう一つは、人間っていつ死ぬか分からないから、刺身から食べた方が良いって考え方もある。つまり、「刺身ルール」。
皆さんはどうですか?私はちなみに「刺身ルール」派です。
At a recent banquet, we were served some really gorgeous sashimi. I especially liked the origami crane touch.
It reminded me of something that often takes place here at Kamesei Ryokan when we serve our chef's Kaiseki-style dinner to guests from overseas. They invariably ask, "Where do we start eating?" The sheer number of dishes that come with the kaiseki meal can be daunting to the uninitiated.
I usually reply that they are two ways of approaching the issue.
One is to start with the hot dishes. The grilled fish and chawanmushi steamed egg custard taste better before they are allowed to cool.
The other one has to do with the fact that as humans, we never know when we are going to do. Hence, it's best to start with the sashimi.
I call it the "Sashimi Rule".
How about you? Which approach to do you prefer? I myself subscribe to the Sashimi Rule.