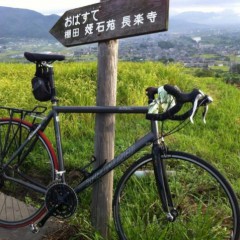 戸倉上山田温泉から車で10分の姨捨「田毎の月」の棚田は四季でそれぞれの季節のそれぞれの魅力(夏は深い緑色、秋は金黄色の稲穂、冬は雪景色、春はお月様を反射する水田)ありますが、
一日の中でそれぞれの時間帯でまた別な魅力があります。
昼間は風でさらさらと流れる穂波で、下の善光寺平や遠くの北信5山の景色、
夕方は夕日の金色の光が稲に横から当たって、写真者に一番喜ばれる光、
夜は善光寺平の夜景と棚田の暗闇とのコントラスト、そして蛙やコオロギの鳴き声、
そして朝は千曲川の向こう側の山から登る太陽の光で見る棚田はまた格別です。
今朝は全国的で有名な乗鞍ロードレースで参加してきたお客様と、うちの長男、三人で朝早く起きてロードバイクで千曲川沿いのサイクリング道路を通って、姨捨の棚田まで登って、走ってきました。約19㎞のコース。朝の運動にちょうど良い。尚且つ、日の出の棚田が見えて、感動しました。
戸倉上山田温泉に泊まって、早起きして姨捨の棚田を是非、見て頂きたいと思っております。
A quick 10 minute drive from Togura-Kamiyamada Onsen, the Obasute "Tagoto no Tsuki" terraced rice fields are a beautiful sight to see. Their name refers to how the terraced slope is situated in just such a way that when the moon comes up, it reflects in each individual rice field.
The rice fields offer distinct scenery depending on the seasons:
Deep green of the rice fronds in the summer,
Golden yellow of the rice ready for harvest in the fall, and the scenes of the cut rice set out for drying.
Patterns of snow over the barren fields in the winter.
And, of course, the mirror-like surface of the fields flooded in springtime for planting.
But what some people may not realize is the fields also offer a variety of scenery throughout the day.
During the middle of the day, the waves of rice grains blowing in the wind with the Zenkoji Plain stretching out below and the 5 Northern Nagano Peaks in the distance,
At dusk, the golden rays of sunlight streaming from over the shoulder of the terraces, lighting up the rice plants from the side.
At night, the inky darkness of the rice fields in contrast with the lights of the Zenkoji Plain down below,
And in the morning, the sun raising up over the mountains across the Chikuma River bathing the terraces in the early morning light.
This morning, I woke up early and went for a bike ride with our oldest son and a guest who stayed at our inn after competing in the nationally famous Norikura Road Race. We set out along the Chikuma River Cycling Road
before heading up to cycle through the Obasute rice fields. It was an envigorating 19-km ride.