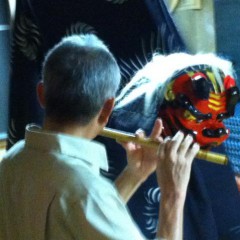 上山田温泉を守ってくれている波閉科神社の2013年の秋月際は9月23日(月)です。それに向かって、私ども上山田神楽保存会は週一の獅子舞練習をまた始まりまりました。
私は横笛です。そろそろ7年間となるのですが、未だに前の人の指を見ながらじゃないとなかなか出来ません。(そろそろ覚えても良いですけどね…)従って、私の目線はいつもこの角度です。
当日はお相撲大会、屋台、カラオケ大会、花火、そしてお神楽の町中を巡る行列です。
思い切りローカルな祭りです。観光客の為じゃない。だからこそ、魅力があるのではないかと思います。良かったら、お越しになって下さい。
The shrine that watches over Kamiyamada Onsen, Habeshina Jinja, will hold its 2013 Fall Festival on September 23rd, the holiday Monday. Our Kamiyamada Kagura Preservation Society has started up our weekly lion dance practices in anticipation of the event.
I myself play the flute. Or, I should say, I try to. I've been 'trying to' for going on 7 years now. I still have to watch the fingers of the guy in front of me to play. I probably should eventually memorize the songs, but am not very musically inclined. (Just ask anyone who has heard me sing karaoke!) So, this picture shows my normal view for the lion dances.
The Fall Festival involves a sumo wrestling tournament, a few vendors, a karaoke contest, some fireworks, and our lion dance troupe's procession around town. It's a very parochial event, not meant for tourists. But that is conversely what makes it so interesting, I think. Come and see for yourself!