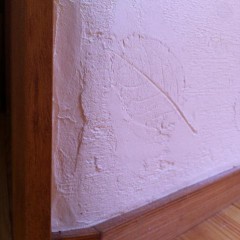 今年の客室改造工事で、
壁は「私はペンキを塗りたい」と大工さん達に言いました。
しかし、大工さんは「ダメです。日本の旅館はペンキが合わない。だが、しっくいを塗るので良かったら一緒に?」と逆に誘ってくれました。
誰がボスかな?と思いました。
まあ、大工さんに従って、生まれてから初めてしっくいの内装をしました。
特徴な道具に特徴なテクニークで、最初は大変でした。その内に少し慣れて来たけど、プロの大工さんにかなわない。
今回の工事は「紅玉(りんご)」というテーマの客間「末広」と「杏」のテーマの客間「千歳」でした。せっかくだったから、大工さんと相談して、想像して、それぞれの木の葉っぱをしっくいに押して、葉っぱの形を残しました。
末広にお泊りになったら、りんごの葉っぱの形を、
千歳にお泊りになったら、杏の葉っぱの形を
探してみてください♪
When we remodelled two of our guestrooms here at Kamesei Ryokan this year, I told the carpenters that I wanted to paint the new walls.
They told me, "No, for a traditional Japanese ryokan, paint won't work 'cuz it's too Western. But we will use 'shikkui' (plaster) and if you want, you can help."
Hey, just who is the boss around here?
Oh well, I deferred to the carpenters and had them show me the special 'shikkui' techniques and how to use the specialized spades and other tools.
It took some getting used to, but I soon got the hang of 'shikkui'-ing. Of course the carpenters were much more proficient than I. As we worked, the carpenters and I talked all about the finer points of 'shikkui', and we stumbled upon a great idea. The two rooms we remodelled have tree-based themes: Suehiro's is the Kogyoku apple tree and Chitose's is the apricot tree. We took leaves from the respective trees and pressed them into the wet shikkui.
If you come and stay in one of these newly remodelled rooms, be sure to look for the leaf impressions.
More on Shikkui