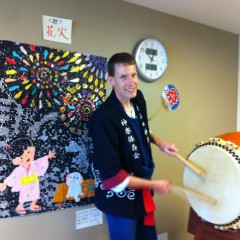 地元の老人ホームに頼まれて、上山田神楽保存会の仲間と和太鼓をたたきました。老人ホームの盆踊り祭りだったので、ボランティアーで和太鼓をたたくのは私達だけでした。
という事で、生まれてから初めて和太鼓演奏しました。
まあ、テクニークはとにかく、車いすで一生懸命踊っているおじさん、そのおじさんの嬉しい涙を見て、私達も嬉しかったです。
旅館青年部や市の観光協会など、私のさまざまの活動をしている中、こういう地味の活動も大事だな。
One of the local old folks homes was in need of a taiko drum player for their Bon Odori summer festival. Me and the leader of the Lion Dance troupe were the only ones to volunteer, so for the first time in my life I found myself performing taiko drumming for an audience.
Seeing one of the old guys dancing in his wheelchair with tears of joy streaming down his face made it all worth-while.
With all of my ryokan association, tourism association and other activities, this sort of simple work is also important!