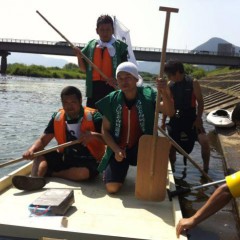 今年はチーム戸倉上山田旅館青年部はまた千曲川イカダ下りに参加しました。温泉街の万葉橋から出発して、約7.5km下って、千曲橋でゴール。2013年は8月18日に開催された。
去年は私がイカダに乗って、1時間15分で着いた。今年は私が応援団で車でゴールまで行った。川の水が少なくて、イカダは3時間ぐらいかかちゃった!
千曲川は普通、川辺から見る。
しかし、川から川辺と周辺の山々を見ると、別な世界って感じ。土手の外側の街が見えないから完全に自然な環境。
来年は一緒に千曲川イカダ下りをやりましょう!
On August 18th, the 3rd annual Chikuma River Rafting event took place. Once again, Team Togura-Kamiyamada Ryokan Junior Association participated.
The rafts start out from Manyo Bridge here at our onsen town, Togura-Kamiyamada. They float downriver 7.5 kilometers to the finish line, Chikuma Bridge.
Last year, I got ride the raft, and it took us about 1 hour 15 minutes to reach the goal. This year, I was in charge of driving down and picking everyone up. Due to lower water level in the river, it took over 3 hours for the teams to float to the finish.
Normally everyone enjoys the Chikuma River from the banks. But seeing the banks and the surrounding mountains from the river is an entirely different perspective. Because the dike blocks the view of the buildings and homes of the city, all you see is natural beauty.
Next year, how about participating in the Chikuma River Rafting with me?