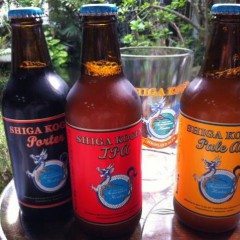 この間にお客さんに怒られました:
「生ビールがない?!普通なら旅館は生ビールがあるよ!」と。
まあ、大きい宿はそうかもしれませんが、亀清旅館の様な小さい宿は樽を開けたら賞味期限まで使い切れる訳ないです。
その代わりじゃないですが、私達亀清旅館で実は、地ビールに拘りがございます。北信の代表の地ビール、志賀高原「玉村本店」から3種類を扱っております:
ペールエール ←フルーティー系
IPA ←苦い系
ポーター ←黒ビール
亀清旅館のお客様は大半喜んで頂いて御礼ます。この厚い夏は特に、地ビールが合うようで、恐らく通常のアサヒより売れている。問屋さんと話したら、「亀清旅館は地ビールの動きがすごい!」と言ってくれました。それこそ、恐らく戸倉上山田温泉では地ビール一番かもしれない。
生ビールのご希望の方には申し訳ございませんが、おいておりません。是非、地ビールの方を試してみてください。
Recently, we had a complaint from one of our guests:
"What do you mean no draft beer? All ryokans serve beer on tap!"
Well, perhaps large-scale ryokans do. But for small inns like Kamesei Ryokan, there is no way we could use up an entire keg after opening before the beer goes flat.
Not to take the place of draft beer, but we here at Kamesei Ryokan pride ourselves in offering craft beer to our guests. We serve a selection of 3 beers from Shiga Kogen Ales, one of the closest microbrewery to onsen town Togura-Kamiyamada:
Pale Ale (a fruity beer)
IPA (strong bitter taste)
Porter (for fans of dark beers)
The Shiga Kogen craft beers are proving to be popular with most of our guests here at Kamesei. Especially during the hot summer months. In fact, some days we sell more bottles of the craft beers then the regular Asahi beer. Our alcohol distributor commented that our sales of craft beer are amazing. We may be the top seller of any inn of all of Togura-Kamiyamada!
With all due apologies to those who prefer beer on tap, I respectfully suggest you try a Shiga Kogen craft beer, here at Kamesei Ryokan!
志賀高原地ビールShiga Kogen Craft Beers