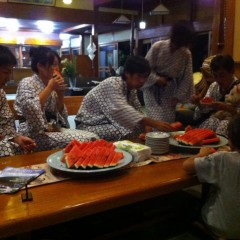 この夏休みで何回か、亀清旅館のロビーですいかパーティーをやりました。お客様の夕食後(私の布団引き後)で皆様がロビーに集まって頂いて、すいかを出しました。お客様との楽しいお話が出来、お客様同士で盛り上がり、きっと良い思い出になりました。
浴衣ですいか…なかなか良いですね。
Several times during this year's summer vacation holiday season, we had the guests gather in Kamesei's lobby for a watermelon party. After their dinner (and after my futon flipping), we served fresh Matsumoto Highland watermelon to everyone.
It was great getting to talk with our guests, and the guests themselves had fun chatting with each other.
Wearing a yukata and eating waterme...
もっと読む