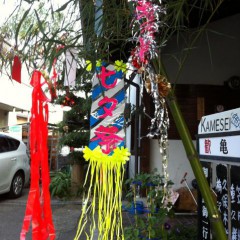 今年は頑張って、亀清旅館の玄関を七夕の為に飾りました。
息子を山へ連れて、長い竹を切ってきて、
地元の文房具屋さんへ行って、ピカピカな飾りをたくさん買って、
梯子を上って飾りつけしました。
7日のお客様が大喜び。
せっかく頑張って飾ったから夏休み中のお客様の皆が楽しんで頂けるように残したいと思ったら、
次に日や「七夕が終わったからもう片付け」と。
えっ?ックリスマスツリーの様に一か月ぐらい飾るのじゃないの?もったいない!
来年は当日ではなく、もうちょっと早めに飾らんとアカンですね。まあ、とにかく、ハッピー七夕♪
This year, I went all out and decorated Kamesei Ryokan's entrance for Tanabata. That's Japan's Star Festival, the one night of the year when the weaver princess Vega can meet her prince, Altair, across the Milky Way. It's tradition here to festoon some bamboo trimmings fronds with colorful, shiny decorations and write wishes to attach to the bamboo.
I took our oldest son up to the mountain to cut some bamboo,
brought it back and set it up at Kamesei's entrance,
went to a local shop and bought all kinds of shiny decorations,
got out the ladder and attached them all to the bamboo.
Our guests were delighted with the colorful Tanabata decorations.
I was thinking we could leave up the decorations for the rest of summer vacation for all of our guests to enjoy. But the next day, everyone told me I had to take them down. I guess it's not like a Christmas tree that you can leave up for a month.
Next year I'll have to put out the Tanabata decorations earlier!