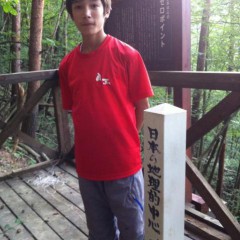 穴場的な所の全てが良しに限られていない事が分かりました。先日の駒ヶ根旅の帰りで辰野町を通っていたら「日本中心のゼロポイント」という看板を見た。興味津々でその細い道に入って、更に細い林道を通って、更に細い凸凹の林道で山の中に入って、今度は歩きで更に細い1.1kmの道を長男と走って(息子はトレールランニングが好きとの事で)、
やっと辿り着きました、ゼロポイントに。
結局、北緯36度と東経138度が0分00秒で交差する「ゼロポイント」だけでした。高さ2mの標柱とちょっとした台があったぐらい。眺めが綺麗って訳でもなく、ただ森の中の標柱。よっぽど緯3と経が好きじゃない限りで行かなくても良い穴場です。
まあ、信州の魅力的な穴場を一生懸命探している私には偶にこういう失敗例もあります。
I have to admit, I am a sucker for off-the-beaten-track places. On our way back from our family's trip to Komagane, we passed through Tatsuno Town and saw a sign for the "Center of Japan Zero Point". Curiosity got the better of me, so we took off on the narrow road the sign pointed to. It lead to an even narrower forest road, which connected to an even narrower dirt track. From the end of the road, our oldest son Andy and I jogged down the 1.1m hiking trail and finally reached:
a sign post that marks the location where East Longitude 138 and North Latitude 36 intersect.
Unless you are really, really interested in longitude and latitude, I highly suggest giving this particular off-the-beaten-path location a pass.
辰野町のゼロポイント Tatsuno Town's Zero Point