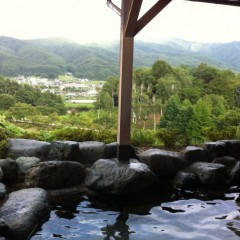 長野県のトップ100温泉を目指して温泉巡りしている中で、先日の駒ヶ根旅の帰りで立ち寄り湯で辰野パークホテル様にお世話になりました。
トップ100と言っても、皆さんはそれぞれの好みがあるから人によって大分違ってきます。私の場合、塩素の匂いと樹脂竹(プラスチックバンブー)なら基本的にアウトです。
辰野パークホテルのお風呂は塩素の匂いがプンプンし、露天風呂の周りにプラスチックバンブーが掛けてある。
なのに、タイラーの「おすすめ」に当たります。
なぜなら、それより良い部分がある:
洗い場や内風呂の設備や内装の綺麗な事、
露天風呂の日本庭園チックなアプローチと東屋の細かいところまで手が届いた事、
そして露天風呂からその眺め♪荒神山池(ため池百選)を見下ろしながら周辺の山々も見えて、本当にホッとする景色。
お湯はナトリウム炭酸水素塩泉だって書いてあるが、特に内風呂では湯質は残念ながら塩素に負けていました。直接露天風呂へ行くのはお勧めです。周りにプラスチックバンブーは他所ありますが、そのやわらかいBGMに、きちんとした造りに、何となく人間にやさしい姫川石の湯槽、その落ち着かせる景色、
とにかく癒されました。
結局、それが長野トップ100温泉の決めるところ:癒されるかどうか。
辰野パークホテルのお風呂は癒されます。
One more stop in my quest for Nagano's Top 100 Onsens: Tatsuno Park Hotel. We stopped for a bath on the way back from our trip to Komagane, and were impressed by the church-like presence of this hilltop hotel.
Two of my pet peeves when it comes to onsens are chlorine smell and plastic bamboo. Unfortunately Tatsuno Park Hotel has both. However, this hotel still gets my recommendation because its good points more than make up for its bad ones. Namely,
The showering area and indoor bath are very elegantly appointed,
The approach to the outdoor bath is a very stylized traditional Japanese garden,
And the outdoor bath made of river rock offers a rejuvinating view of the Kojinyama Pond below and the hills off in the distance.
The attention to detail by the builders really show with the impeccable garden and the stately shelter over the outdoor bath. With soft music playing in the background, the natural contour of the outdoor bath's river rocks, the serene lake and mountain view, we came away completely relaxed.
And at the end of the day, that's what determines whether or not an onsen makes one of Nagano's Top 100, and Tatsuno Park Hotel certainly qualifies!