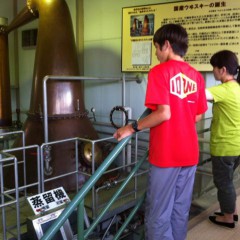 駒ヶ根の人気ある観光スポットは光前寺と駒ヶ岳ロープウェー・千畳敷カールですが、まだまだ沢山の魅力がある。その一つは工場見学巡りです。巡れる工場は:
*養命酒健康の森 薬用酒の工場
*マルスウイスキー ←2013年World Whiskies AwardsのWorld's Best Blended Malt Whisky (Mars Maltage 3 Plus 25, 28 Years Old)
(私達が見学させて頂いて、試飲しました。しかし、私は個人的に向上の関連「南信州ビール」の方に興味あり。近くに直営地ビール料理のレストランもあり。)
*ル・ノール・リヴィエール パン屋さん
(私達がその直営売店で美味しいドーナツを買った。)
気が向いたら是非に行ってみてください。
Komagane's most popular attractions are Kogen-ji Temple and the Komagatake Ropeway / Senjojiki Cirque. But there is much, much more to see and do. One interesting thing to do is to tour the area's factories, including:
*Yomeishu (makers of a traditional Oriental Herbal Liqueur)
*Mars Whisky Their Mars Maltage 3 Plus 25, 28 Years Old won the 2013 World Whiskies Awards "World's Best Blended Malt Whisky"!
(Fascinating to seeing how whisky is made and how it is stored in wooden casks, but I personally am more interested in their sibling company, Minami Shinshu Beer. Nearby is their restaurant featuring foods that complement craft beer.)
*Le Nord RivEre Bakery. We stopped at their outlet store and bought some yummy donuts!
If you're curious about Japanese factories, check out these 3 in Komagane.
マルスウイスキーMars Whisky
南信州ビールMinami Shinshu Beer