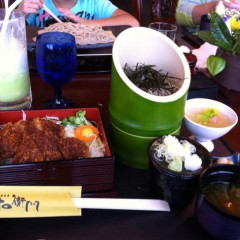 (駒ヶ根シリーズの続き)
「地元B級グルメ」の成功事例の一つ:駒ヶ根の名物「ソースかつ」。中央道の駒ヶ根SAでソースかつ。高速から降りてどっかで食べるとソースかつ。駒ヶ岳のロープウィーで上がって千畳敷カールのホテルでソースかつ。とにかく、ソースかつ。
その甘くて美味しい事!私は大好き。
さあ、問題はどこでも食べれる中でどのお店を選ぶかと。良い所の一つを教えます: 東衛門。
駒ヶ根ICから降りてロープウィーの乗り場へ向かって3分の所。建物は茅葺屋根の古民家で、入口に何と足湯がある。そんな嬉しい所がなくてもお料理の見た目、味、ボリュームそしてスタッフの笑顔、お勧めです。その渋い建物と早太朗温泉のお湯を使った足湯、なお良いです。
(子供達が先に召し上がり終って、待っている間に足湯を楽しんでもらえた。私達ママとパパがゆっくり食べれて、良かった!)
(Next in a series on the Komagane area.)
Every region in Japan seems to be trying to come up with its own "famous" local cuisine. Komagane is on success story, with its Sauce Katsu. Usually tonkatsu (readed pork fillets) is served with an egg sauce on top. Komagane's Sauce Katsu features a sweet sauce instead. And it is delicious!
You can get Sauce Katsu at the Komagane service area on the Chuo Expressway. You can get Sauce Katsu at any number of restaurants in town. You can even get Sauce Katsu at the hotel at the top of the Komagatake Ropeway at Senjojike Cirque. With all of those places to choose from, which restaurant to select? Well, I am here to help with one particularly good recommendation: Toemon.
Toemon's building is actually an old farmhouse with a thatched roof. And at the entrance, they have a fantastic footbath! But even without those bonuses, the tonkatsu here is superb in presentation, taste and volume, and the staff's friendly smiles all make for my highest recommendation.
(The footbath was great for when our kids finished eating first — they could enjoy soaking their feet while their Mom and I leisurely enjoyed our meal.)
南信の代表的な宿、二人静の直営レストラン、東衛門 Toemon