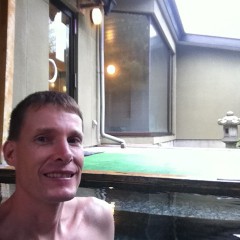 7月30日に私が43歳となりました。43歳との事で、そろそろ「若旦那」と言えなくなってしまいますね。まあ、誕生日に合わせて家族の夏休みで南信の駒ヶ根に行きまして、私の旅館青年部の仲間の宇佐美さんの宿、早太朗温泉「やまぶき」にお世話になりました。
駒ヶ岳の麓で、そのロープウェーや光前寺さんで有名な早太朗温泉。お湯は高目なpH9.1で肌がすべすべになった。夕食の時にやまぶきさんの特徴的な古民家風な囲炉裏付きの個室でごちそうになった。その際、やまぶきさんの特別おもてなしで個室が誕生日パーティー用に飾ってあった。素晴らしい演出だった!私の一番好きな日本酒、夜明け前もプレゼントで頂きました。
早太朗温泉の素晴らしい誕生日の思い出になった。
On July 30th, I turned 43 years old. Partly for my birthday and partly for our family's summer vacation, we went for a drive to southern Nagano's Hayataro Onsen and stayed at my Junior Ryokan Association buddy Usami-san's inn, Yamabuki. Hayataro Onsen is at the base of Mt. Komagatake and its amazing ropeway and is the home of legendary Kozen-ji Temple.
Hayataro Onsen's water has a high, 9.1pH which leaves your skin feeling silky smooth. At dinner, we were treated to a feast in one of Yamabuki's private dinner rooms decorated for my birthday.
Thanks to Yamabuki and Hayataro Onsen, I had a very memorable birthday celebration!