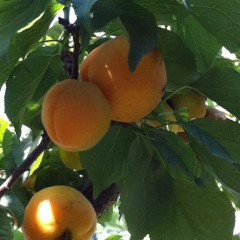 亀清旅館の客室「千歳」は杏のテーマに少しづつ変えています。近くの森「日本一あんずの里」の記念です。お部屋についている坪庭に庭師の岡田さんが数年前に杏の木を植えてくれた。今年は実が沢山出来ました。この頃、この部屋にお泊りになるお客様は杏狩りが出います!
杏の実って、昔の品種は割かし尼酸っぱいです。個人的にその味が好きですが、この頃は甘い方が人気で北米からのハーコットが主流となってきている。亀清の杏の木は昔からの「昭和」種で、尼酸っぱくて美味しいです。虫や病気には少し弱いし、私達は農家の様に農薬を使う訳に行かないからあまり綺麗な実が出来ないかもしれません。
それにしても、旅館のお部屋から杏狩り… 亀清旅館のオンリーワン♪
Kamesei Ryokan's guestroom "Chitose" is slowly being remade with an apricot theme in honor of the nearby Mori District's "Apricot Village" — Japan's #1 apricot growing area. A few years ago we had our gardener Okada-san plant an apricot tree in the room's tsubo-niwa pocket garden. The fruit is now becoming ripe, so guests staying in this room for the next few days will be able to pick apricots in their garden.
The heritage varieties of apricots tend to be very tart. I personally like that taste, but lately sweeter varieties have become more popular here, such as the harcot variety from Canada. Our gardener, though, picked the classic Showa variety to plant. It bears nice and tart fruit. The old varieties aren't as hardy with respect to insects and diseases, and we don't use pesticides like professional orchardists do, so the fruit isn't exactly pretty. But the taste is great.
Picking apricots in your Kamesei's guestroom garden — quite possibly the only ryokan in Japan to do so!