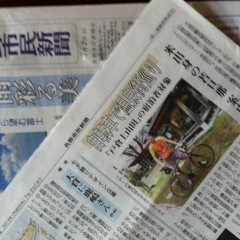 自転車で戸倉上山田温泉を巡るツアー
ガイドは何と、
私です!
という新しい観光商品を何とか形にしたいと思っておりますがまだまだお客さんが…
ツアーは毎週土曜日の午前10:30から1時間半名簡単なコースです。
集合場所はカラコロ足湯で、
自転車はレンタサイクル利用となります。
レンタサイクル代と保険、完走のまんじゅも込めて1200円。
告知の為に亀清旅館のHPにもじゃらんネットにも自転車ツアー付き宿泊プランも作りました。そして、地元の長野市民新聞のリポーターにずずしくて頼んで、記事を書いて頂きました。(山田リピーター、有難う!)
自転車で温泉街巡り… 戸倉上山田温泉の新しい観光商品になる様に!
One of my (too many) projects: Starting a Cycling Tour of our onsen town Togura-Kamiyamada. One of the local newspapers was kind enough to run an article about the project.
Guided Cycling Tour of Togura-Kamiyamada Onsen
Every Saturday Morning 10:30am
Simple 1-1/2 hour course starting at the Kara-koro footbath.
1200 yen per person, including rental bicycle, insurance and manju pastry for the finishers.
Contact us at Kamesei Ryokan to reserve your space on the tour!