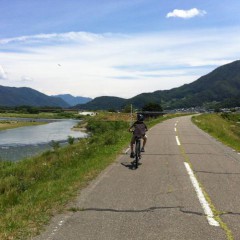 晴れた春の週末の日
千曲川沿いのサイクリング道路
これはアメリカだったら自転車で渋滞位になる様な所ですが、せっかくこんな綺麗な資源なのに利用者が少ない…
なぜ?
今回は二男のケネス君と二人で往復で約15㎞走りました。行は風が顔に当たって、帰りは風に押されながら、気持ちいい運動。尚且つ、千曲川や冠る気山・周辺の山々の景色を楽しみながら、車の排気ガスが無くて、良い経験。
ケンちゃんは「いつまた行けるか」と喜んでくれた。
戸倉上山田温泉はサイクリングのメッカだね。
A sunny spring weekend day.
A leisurely bike path along the Chikuma River.
If this were back in the States, the path would likely be crowded with cyclists. But for some reason, cycling just hasn't caught on here in Japan.
This past weekend, my son Kenny and I went for about a 15km ride on the Chikuma River Cycling Path. We had the wind in our face on the outbound, and had the wind push us home on the return. The peaceful Chikuma River and the grand Kamuriki Mountain and the other surrounding hills made for a picturesque backdrop. What a waste that more people don't enjoy cycling on this path.
Kenny asked after we got back when we can go cycling again.
I'm glad some enjoyed the path with me, here in cycling mecca, Togura-Kamiyamada.