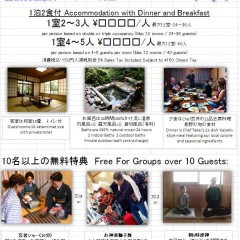 5月29日に長野県観光課の主催で東京・浜松町でインバウンド旅行会社との商談会がありました。2年ぶりに行って、この戸倉上山田温泉と亀清旅館を一生懸命PRさせて頂きました。
以前にも私が参加しましたけれども、亀清旅館は小さい宿なので日本国内の旅行会社のの付き合いさえありません。従って、海外から観光客関係の旅行会社とあまり合わないけれども、今年は千曲市が新しい外国語パンフも出来たし、ある専門家と相談した結果、亀清旅館の「勝負」値段表を作りましたので、今年は参加する決意しました。
その「勝負」値段表の戦略はお神楽の獅子舞又は芸後初―などのオプシオナルツアーを団体客向き無料で提供する事。写真はその表です。これからも良い結果を追いかけておきます♪
On May 29th, the Nagano Prefecture Tourism Association held a sales conference in Tokyo for Land Operators — travel agents that deal with visitors from overseas. For the first time in 2 years, I participated in the hopes of promoting Togura Kamiyamada Onsen and our inn, Kamesei Ryokan, to the world.
As Kamesei Ryokan is so small (only 12 guestrooms), we don't even have contracts with Japanese domestic travel agents. So it's questionable how effective we can be in dealing with "Inbound" agents. But our city, Chikuma-shi, put out new foreign language brochures this year. And I conferred with a mentor in the industry and put together a strong price list to present to the agents. So I made the trip to Tokyo and made as good a presentation as I could.
Pictured is a copy of our price list for agents. It's main feature is the inclusion of free 'optional tours' for groups such as a geisha show or Kagura lion dance performance. I'll keep pursuing some leads and hopefully get some interest in attracting groups of foreigners to the area.