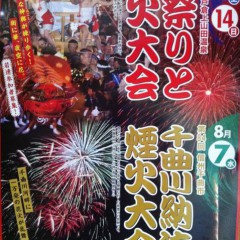 戸倉上山田温泉の夏祭りと千曲川花火大会の準備が本格的に始まりました。2013年度の予定は下記の通り:
戸倉上山田温泉夏祭りと煙火大会
2013年7月13日(土)と14日(日) 海の日の連休
温泉夏祭りはこの地域の毎年の一番大きいイベント。
土曜日は午前中に上山田のそれぞれの地域のお神輿。お昼は皆が温泉に集まって、上山田神楽保存会先頭で温泉街を行列する。夕方は民踊流し、夜はご神体のでかいお神輿。
日曜日はお昼から4つのでかいお神輿と勇実獅子が温泉街を巡って、夜は太鼓と花火に合わせてグランフィナーレ。
こんな迫力のある祭りは必見!
第84回千曲川納涼煙火大会
8月7日(水)
こんなに近くからこんなに大きい花火大会は他にない!真上で光って、光は千曲川で反射して、音は周辺の山々で反射して、感動的!
Preparations for the sumemr festivals here in our onsen town Togura-Kamiyamada are under way. Dates for 2013 are as follows:
Togura Kamiyamada Onsen Summer Festival
July 13th and 14th, 2013 (the Saturday and Sunday of the Marine Day holiday weekend)
Saturday starts with processions in the various neighborhoods of Kamiyamada. Then they all gather for one big parade through the onsen town in the early afternoon, led by the Kagura lion dance troupe. In the evening, there is a Minyo dance procession followed by the main omikoshi.
Sunday afternoon, 4 big omikoshi's and the huge Isami Shishi lion process through town, gathering at the main festival site for the grand finale with taiko drumming and fireworks at night.
The festival is one of the most exciting you'll ever see.
84th Annual Chikuma River Fireworks Festival
Wednesday August 7th, 2013. From 7:30pm to 9pm.
Fireworks will light up the night sky above the Chikuma River in front of Togura Kamiyamada Onsen. The bursts will practically be directly above you, with the flashes reflecting in the Chikuma River and the sounds reverbrating off the surrounding hills.