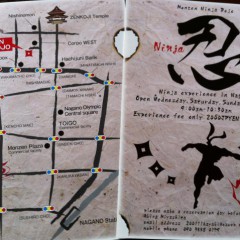 戸隠れ道忍術の宮下さんは先日に紹介した長野市善光寺近辺の門前忍者道場で忍術の稽古の自由参加は週三回提供しています。毎週水・土・日の09:00-10:30で、一人2000円となります。子供から年寄りまで、誰でも参加できます。内容は参加者に合わせるそうですが、忍びの歩き方や簡単な身の守り方から手裏剣投げや屋根の上り方まで、さまざまな忍術を習える。
忍者の着レンタルや忍術の道具展示もある。
予約・お問い合わせは宮下さんへどうぞ。090-3558-0179, 200111hayaki@ezweb.ne.jp
Ninja Training Lessons by Miyashita-san, a master of the Togakuredo school of Ninjutsu, are available to the public at his Monzen Ninja Dojo located near Zenkoji Temple in Nagano City. He offers 3 lessons per week, on Wednesday, Saturday and Sunday mornings from 9:30 to 10:30am. Price is 2000 yen per person.
Lesson content varies according to the interests and abilities of the participants. Want to learn how to walk stealthily like a ninja? Or are you interested in learning some basic self-defense manuevers? How about throwing shurikens? Or climbing up walls to reach the roof of the building — and then jumping down from the 2nd story? The Monzen Ninja Dojo is the place for you!
Anyone can participate in the lessons — from kids to adults, and even kids WITH adults.
For information and/or reservations, call or e-mail Miyashita-san at 090-3558-0179, 200111hayaki@ezweb.ne.jp.