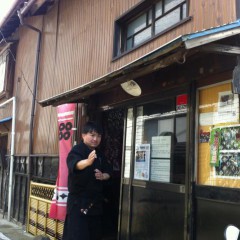 善光寺の周辺の空き家の再生活動NPOとNPO法人こども忍者スクールながの忍法武術会のコラボで、門前忍者道場ができました。先日は寄ってみましたので、宮下忍者がこの新しい道場を案内してくれました。忍者道場だからその案内は壁や床の穴を通したり、2階の屋上から飛び降りたり、手裏剣針投げとか、普段は出来ない体験たっぷり。今度は親子で遊びたいというか修行したい!
An NPO trying to find uses for empty houses and buildings around Zenkoji Temple in Nagano City hooked up with another NPO teaching ninjutsu to kids. The result is the Monzen Ninja Dojo.
Officially open for business, the other day Miyashita-ninja gave me a tour of the dojo. The tour included crawling through holes in the walls and floor, jumping off the 2nd floor roof, and throwing shuriken darts — not your typical everyday experiences!
I am looking forward to taking our kids there for some father-son bonding through ninja training!
門前忍者道場 Monzen Ninja Dojo
For information and/or reservations, call or e-mail Miyashita-san at 090-3558-0179, 200111hayaki@ezweb.ne.jp.