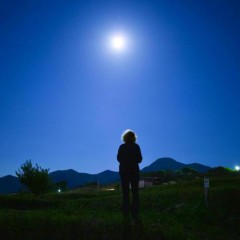 5月25日は満月でした。戸倉上山田温泉では目出度い日です。なぜなら、近くの姨捨の「田毎の月」の棚田は田植えで水がはってある。その伝説の田んぼ毎に映る月を見るチャンス!
せっかくだったからお客様数人と一緒に行きました。カメラマンたちはやはり大勢いらっしゃいました。その一人、中野さんはお客さん一人、スイスからのMargritさんにモデルしてもらって、このシルエットの写真を撮りました。
幻な夜でした!
May 25th was the night of the full moon. Around our onsen town Togura-Kamiyamada, that is a cause for celebration. The reason why is that the terraced rice fields in nearby Obasute are flooded for planting. That means it's the perfect time to see the moon reflecting in the individual rice fields, a phenomenom known as Tagoto-no-Tsuki.
I took several of our guests to go see the rice fields and the moon. We were surprised to see so many photographers there trying to catch a glimpse of the elusive moon reflecting the rice fields. One cameraman, Nakano-san, asked one of our guests, Margrit from Switzerland, to pose for this sihouette picture.
What a magical evening!