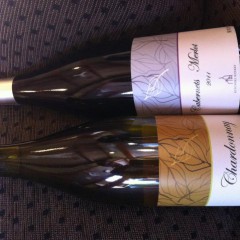 亀清旅館は「長野産のワインを飲める宿」との事を目指して、準備しています。先日は須坂市の楠ワイナリーをもう一度訪ねました。楠さんご本人と相談して、取り敢えずこの2種類を購入してみました:
シャルドネ
充実した香に、濃縮感の強い風味。果実香とミネラル、抑制の効いバニラやトフィーの香。エレガントかつ熟成して甘い香を放つようになります。
楠ワイナリーのシャルドネは、フレッシュ・アンド・フルーティとは一線を画するワインです。(楠ワイナリーのHPから)
私が飲んでみたら、なんとなく暖炉の前に座ってそのほのおを見ながらゆっくり飲めるような感じがしました。別な世界に運んでくれるという不思議な力のある幻のワインだと思いました。
カベルネs/メルロー
いわゆるボルドーブレンドです。ブレンド比率は年により変ってきますが、各品種のよいところが相乗効果でさらによいワインとなる北信州の赤。単に混ぜ合わせるのはミックスですが、出来るワインが単一品種のワインよりも美味しい高品質のワインになることをブレンドといいます。つまり「1+1=2」でなければならないのです。(楠ワイナリーのHPから)
私には「短い人生の中で、安いワインを飲むのはどうか」という言われを思い出しました。とにかく、奥深い赤ワインです。亀清旅館のChef武井の拘りの味付けのお料理には、やはり拘りのワインと合います。
夕食の際、どうぞお求めください。
Here at Kamesei Ryokan, we are aiming to provide our guests the opportunity to try some of Nagano's best wines. I recently went again to Kusunoki Winery in Suzaka City and sat down with the vintner himself, Kusunoki-san. After discussing Kamesei's style and our chef's cuisine, and taste-testing several of their wines, I purchased the following two to offer to our guests:
Chardonnay 2011
Kusunoki-san describes this white wine as having a mature, strongly concentrated flavor. Full of fruity and earthy aromas with hints of vanilla and toffee. It gives off an elegant and mature sweetness. Kusunoki Winery's Chardonnay paints a picture of 'Fresh and Fruity'.
When I first tried this Chardonnay, I was transported to another time and place. I imagined sitting in a fat, leather sofa beside a fireplace, sipping the wine while watching the flames flicker. Kusunoki Winery's Chardonnay is that powerful, that magical.
Cabernets Merlot 2011
According to Kusunoki-san, this is his Bordeaux blend. The actual ratio of Cabernet Savignon with the other Bordeaux grapes varies from year to year. The strength of each variety complement each other in this Northern Nagano Red. Simply combining varieties results in a mix. In the case of this blend, the result is stronger and the taste more delicious than any of the individual varieties by themselves. With a blend, 1+1=more than just 2.
To me, this Cabernet blend reminded me of the saying "Life is too short to drink cheap wine." Kusunoki Winery's Cabernet Merlot is not for the weak of heart. It is the perfect accompaniment for the heady flavors of Kamesei Ryokan's Chef Takei's culinary magic.