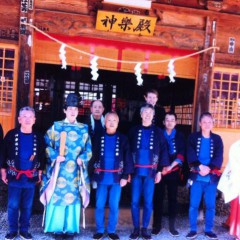 上山田神楽保存会のメンバーはゴールデンウィークに上田市の生島足島神社の神楽殿(写真)と善光寺で獅子舞してきました。
そして、17日にこの上山田温泉の清風園山に呼ばれて、40人の団体様の宴会で演奏しました。結構喜ばれた。獅子のお祓いは親睦の力はあるなと感じました。
皆様の宴会でどうですか?お神楽パワーをかけませんか?
今回の演奏の紹介にも使いましたが、上山田神楽保存会の由来があります:
千曲市・上山田神楽保存会の「神楽舞」は千曲市(旧更埴市)、中原の獅子舞が起源とされています。江戸中期から現在まで数百年の歴史と伝統を持っており、千曲市、上山田地区の民俗芸能のひとつとなっております。
この上山田神楽保存会の神楽舞は「幌舞」(ほろまい)、「御幣舞」(おんべまい)、「狂い舞」(くるいまい)の三つの舞で構成されていて、主に、上山田地区の神社(力石の清水神社、新山の庄内神社、八坂の八坂神社、城脇の波閉じ科神社、上山田温泉夏祭りの水天宮祭)のお祭りの奉納行事として、「平和」と「五穀豊穣」を願って舞われております。
また、悪魔払いとして、新築の家やお祝い事、上山田地区の様々な行事や地区外からも呼ばれ、神楽舞を舞っております。
(演奏の時の一言:)本日は、ここにいらっしゃる皆様方のご健勝と、益々のご繁栄をお祈りして「神楽舞」を奉納いたしますので最後までごゆっくりと、お楽しみください。
Since moving to Nagano, I've been a member of the Kamiyamada Kagura Preservation Society, our local lion dance troupe. This past Golden Week holiday, we performed at Ueda City's esteemed Ikushima Tarushima Shrine and the venerable Zenkoji Temple in Nagano City. And just recently, one of the local hotels had us perform at a major banquet. We hope more people consider a lion dance performance at their banquet, too!
For this performance, I was asked to provide the background story, so here it is:
Note: 'Kagura' is sacred song ('uta') and dance ('mai') performed at Shinto shrines. It is commonly referred to as o-Kagura with the polite 'o'. 'Kagura-mai' (dance-Kagura) includes, but is not limited to, shishi-mai, the lion dance. Kagura is actually quite broad, and even encompasses Noh theater. Kamiyamada's Kagura is the lion dance form.
Kamiyamada Kagura Preservation Society of Chikuma City
The Kagura-mai of Chikuma City's Kamiyamada Kagura Preservation Society originated from the Kagura-mai of Nakahara in the formerly Koshoku area of Chikuma City. Having a history and tradition dating back several hundred years to the middle of the Edo Period, our group is one of the Chikuma City Kamiyamada District's folk entertainments.
The Kamiyamada Kagura Preservation Society's Kagura-mai consists of three separate dances: Horo-mai (ritual), Onbe-mai ('onbe' staff) and Kurui-mai (drunken). We mainly perform as an invocation for peace and a bountiful harvest during the festivals of Kamiyamada's various shrines: Shimizu Shrine in Chikaraishi, Shounai Shrine in Arayama, Yasaka Shrine in Yasaka, Habeshina Shrine in Chuo/Jouyou, and Suitengu of Kamiyamada Onsen's Summer Festival.
In addition, we also perform to dispel evil spirits at events and dedications such as for new houses throughout the Kamiyamada area and beyond.
(Said at the beginning of the performances:) Today, we perform our Kagura-mai in prayer for the health and prosperity of everyone present. Relax and enjoy.