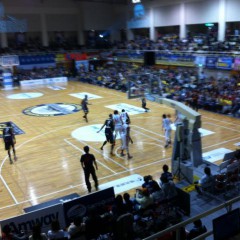 プロバスケの信州ブレイブウォリアーズの今シーズン最終戦は28日に行われた。会場の戸倉体育館は満員だった。わくわくした試合だったけど、残念ながらホームチームは勝つ事が出来なかった。
今シーズンは試合の時間帯が旅館の若旦那の仕事と合わなくて、結局この最終戦しか行けなかった。でも、うちの子供達を連れて行って、家族で楽しめた。
戸倉上山田温泉でこうやってプロバスケが見れて、嬉しい。会場はこじんまりした大きさだから目の前で選手達が見える。来シーズンは楽しみだな。
The Shinshu Brave Warriors pro hoops team closed out the season with a home game on Sunday the 28th. A capacity crowd watched the exciting game at the Togura Gymnasium, but unfortunately the home team couldn't pull off a win.
The game times this season were not amicable to a inn proprietor's schedule, so the only game I got to see was this last one. But I took our kids and we had a fun family outing.
It's so great that we have pro hoops right here in our onsen town Togura-Kamiyamada. And the gymnasium is fairly compact in size, so you get to see the players really up close. I'm already looking forward to next season!
信州ブレイブウォリアーズShinshu Brave Warriors