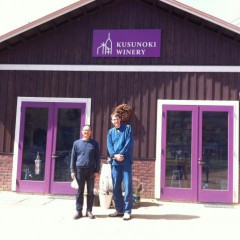 「本物のワインはおフランスのだな」と言う考えはもう古い。あちらこちらにワイン作りの技術が上がってきて、世界中に高級のワインが出来る様になってきた。日本では山梨県はワインで有名ですが、気候が段々と変わってきて、最近は信州で良い品質のワイン葡萄が出てきた。高い技術で高質のワインは安曇野、茅野、東御市、所々です。
先日はその一つに行きました: 須坂市の楠ワイナリー。オーストラリアでワイン作りの資格を取ってきた楠さんに会ってきました。試飲もさせて頂きました。1本2~3000円もするワイン(5000円野もある!)で、贅沢でした。
楠さんにどこのワインが一番の憧れ課と聞いたら、彼はどこかのワインを目指していないと、須坂の土から北信の気候で育ってくる葡萄はなりたいワインになる様に、手伝っていると仰った。
感心しました!
亀清旅館は「ワインを飲める宿」と言うふうに育って行きたいと思っております。現在は長野産の安い五一ワインとイヅツワイン、そして私の拘りでワシントン州産のカベルネサーブィニヨンを扱っています。これからは楠ワイナリーの高級長野産ワインも。お楽しみに。
It used to be that for really good wine, you had to go to France. But nowadays, wine making technology has advanced to so far that you can find the highest quality wine all over the world. Here in Japan, Yamanashi Prefecture is renown for its wine production. But as the climate changes, Nagano's grape fields are increasingly producing world class wine grapes. And a handful of local winemakers are producing wine that rivals that of France.
The other day, I visited one such winemaker, Kusonoki Winery in Suzaka, northeast of Nagano City. Kusunoki-san studied Oenology and Viticulture in Australia, and in talking with him, his enthusiasm for really good wine was evident. He graciously let me sample some of his whites and reds. That was quite a luxury, as their prices are in the 2 to 3 thousand yen range, with at least one bottle priced close to 5,000 yen.
I asked Kusunoki-san what region's wine he likes the best. He replied that he isn't trying to reproduce any one wine. Instead, growing from the nutrients in his fields here in Suzuka, in Northern Nagano's climate, his grapes know what type of wine they want to become, and he considers it his job to assist them in that process.
Quite a humble yet amazing concept!
Here at Kamesei Ryokan, we currently offer two inexpensive Nagano wines as well as one of my favorites, a Washington State cabernet savignon. But it is my hope to slowly make Kamesei Ryokan into an inn where guests can enjoy fine wine. We are looking at offering such from the Kusonoki Winery in the near future. Stay tuned!
楠ワイナリー Kusunoki Winery
Note: Kusunoki-san's blog is bilingual Japanese and English.