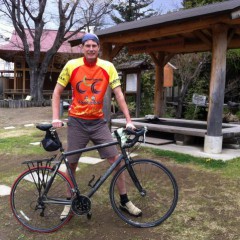 2013年5月から毎週土曜日の朝10時半から、
私はこの戸倉上山田温泉を巡る自転車ツアーをガイドします♪
集合場所は温泉地の中心にあるカラコロ足湯、
レンタサイクルのママチャリを利用して、
国の重要文化財から穴場的な所まで、
千曲川と周辺の山々の景色を眺めながら、
足湯や温泉まんじゅを楽しみながら、
一時間半ぐらいのコースで、
自転車もこの戸倉上山田温泉が大好きな私が案内します。
11月までの毎週の土曜日で、
先着順で8人まで、
料金は1200円(レンタサイクル代、保険料、饅頭代込)
申し込みは千曲市観光協会もしくは亀清旅館へどうぞ!
Starting this May, I will be leading a cycling tour of onsen town Togura-Kamiyamada every Saturday Morning.
Tours will start at the Kara-Koro footbath in the center of town, departing at 10:30am. 'Mama-chari' rental cycles will be provided.
Lasting for around 1-1/2 hours, the tour will cover everything from Designated National Cultural Treasures to hidden secrets. We will be able to take in the beautiful scenery of the Chikuma River and the surrounding mountains. The tour will also include a footbath stop and each participant will get a manju sweet to eat.
I myself love cycling, and also love Togura-Kamiyamada Onsen, and will be enthusiastically leading the tours.
Tours will take place every Saturday morning from May through November.
Price is 1200 yen, including cost of the rental cycle, insurance, and the manju sweet.
Maximum 8 people per tour, so reserve early!
To reserve, contact the Chikuma City Tourism Association or call us here at Kamesei Ryokan.