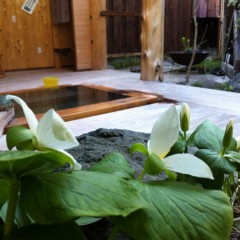 亀清旅館の貸し切り露天「しなの風呂」に入って頂いたお客様にどうだったかと聞いたら、
「気持ち良かった!庭にエンレイソウの花もあって、綺麗でした。」
えっ、知らない内に私の大好きなエンレイソウが咲いたのだ!庭師の岡田さんが節分草やカタクリなど、沢山の珍しいお花を植えてくれて、春は次から次へ咲きます。今の楽しみはオオバナノエンレイソウの白い花とシロヤマブキ。
この春は亀清旅館の貸し切り露天「しなの風呂」を是非、楽しんで頂きたいと思っております。
After a couple of guests used our private family onsen bath "Shinano-buro", I asked them if they enjoyed it. They said that not only was the onsen water fabulous, but in the bath's garden, trillium was in bloom so they were able to enjoy the flowers, too.
Hey — when did the trillium start to bloom? That's one of my favorite plants, and I was thrilled that our gardener, Okada-san, included some when he built the garden for our Shinano-buro outdoor bath.
This is the perfect time to enjoy Kamesei's private onsen bath — the garden is coming alive with spring flowers!