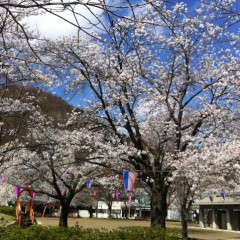 戸倉上山田温泉の桜は満開になりました。亀清旅館の裏の中央公園は花が今ちょうどピークです。今週末は亀清の若女将も頑張って入っているおかみの会は屋台を出して、おでんや焼鳥、ビールなど販売する予定です。
上山田温泉中央公園 おかみの会花見テント 2013年
4月12日(金)、13日(土)、14日(日)
昼12時から午後7時まで
今年の春を記念して、花見してはいかがですか?
The cherry blossoms here in our onsen town Togura-Kamiyamada are now at their peak. Right behind our inn Kamesei Ryokan is Chuo Koen park, and the pinkish-white sakura petals are in full bloom.
This weekend, the ladies guild (including Kamesei's junior proprietress, my wife Mari) will be selling oden stew and yakitori chicken as well as beer for the hanami (flower viewing party) revelers.
Kamiyamada Onsen Chuo Park Hanami Ladies Guild Tent 2013
April 12th (Friday) thru April 14th (Sunday)
From Noon to 7pm
Come and celebrate Spring under the cherry trees in Kamiyamada Onsen!