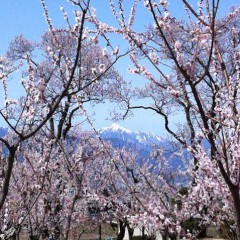 亀清旅館・戸倉上山田温泉から車で約20分、
森「日本一あんずの里」の花は今、ピークです。
8日にまた見に行きましたが、
杏の花は更に咲いていて、
春空は更に青くて、
雪をかぶっている北アルプスは更に見えて、
パーフェクトでした♪
皆さん、今はチャンスですよ! 花咲や天気は自然な現象ですから当たり外れが厳しい中で、今週はちょうどいいタイミング!
A short 20 minute drive from Kamesei Ryokan / Togura-Kamiyamada Onsen, Mori "Apricot Village" is at its peak for the apricot blossoms.
On the 8th, I again took a drive over to check out the flowers,
The blossoms were even more open,
The spring sky was even more blue,
The snow-capped Northern Alps in the distance were even more visible,
In other words, it was perfect!
The timing of the flowers and the weather are always hard to predict, but this week promises to be a great one for flower-viewing at Mori.