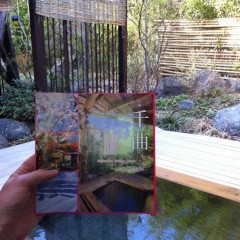 千曲市観光協会の新しい通年パンフが出ました。表紙は四季に合わせて4つの写真:
紅葉の長楽寺、
雪景色の姨捨「田毎の月」棚田
森「日本一あんずの里」の杏の花
そして、一番でかくのは戸倉上山田温泉のある旅館の露天風呂と庭。
あれっ?我が亀清旅館の貸し切り露天「しなの風呂」じゃないですか?
亀清のお風呂が千曲市の代表のお風呂?!
勿論、嬉しいけれども吃驚しました!
この写真実体はいつ撮られたか、
そしていつの間にか表紙に載ったか、
不思議でしょうがない。
特に、私が観光協会のこのパンフを作成する委員会に入っている… 偶々欠席した会議で決められたのかな?
という事で、市の新しいパンフが出ましたので何方かご要望があればお送りしますのでどうぞ、ご連絡を下さい。
そして、千曲市の代表のお風呂をこれからもしっかり守って行きます!
Chikuma City's Tourism Bureau released the newest Guide Book brochure for the city. The cover has 4 pictures representing our city's four seasons:
Fall leaves at Choraku-ji Temple,
Snow-covered terraced rice fields at Obasute,
Apricot blossoms from Mori "Apricot Village"
and, a outdoor bath and garden of one of the ryokans in Togura Kamiyamada Onsen.
Hey, wait a minute,
That's Kamesei Ryokan's new outdoor family bath, "Shinano-buro"!!!
While of course I'm elated our bath was chosen to represent the city on the cover of the brochure,
I'm a bit surprised as to who/what/when the picture was taken, and how our bath's picture got chosen for the cover. Especially as I am on the committee that makes the brochure. I missed one meeting, and that must be when the decision was made.
Anyways, we now have the new brochures available for anyone that is interested, and we will now work doubly hard to make the best out of Kamesei's Shinano-buro, now that it represents the entire city!