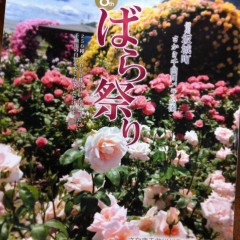 戸倉上山田温泉の隣の坂城町にさかき千曲川バラ公園があり、毎年はばら祭りが開催される。2013年の予定の情報が入りましたのでお伝えします:
2013年坂城町ばら祭り
6月1日(土)~6月16日(日)
さかき千曲川バラ公園
250種・2000株は千曲川沿いのバラ公園でその甘い香りと美しい姿を楽しめる。
地元ねづみ大根のおしぼりうどんや
地元チョコレート工場「ロビーニア」さんの美味しいチョコなどの屋台もある。
私と磨利ちゃんのお勧めのデートスポット: 坂城ばら祭り
Neighboring Sakaki Town is home to a wonderful rose garden that features an annual rose festival. The dates for 2013 have been announced, as follows:
8th Annual Sakaki Rose Festival
June 1st to the 16th, 2013
Sakaki Chikuma River Rose Garden
250 varieties and 2000 plants fill the air with their lovely scent.
There will be several booths set up including one serving the local specialty "Oshibori Udon" and one selling sweets from the nearby Lobenia Chocolate Factory.
The Sakaki Rose Festival is one of Mari's and my favorite outings for a date — highly recommended!
さかき千曲川バラ公園 Sakaki Chikuma River Rose Garden