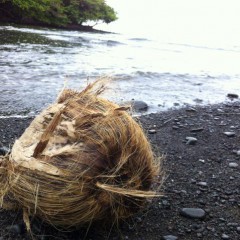 長野に見れない景色: 黒砂海岸にココナッツ。
ハワイ島は約1週間しか滞在しなかった。
「一週間も滞在したか?」と言われそうですが、やりたい事が多くて一か月間でも足りない様な気がした。最後の日はサーフィンをやってみたが、ハマってしまいました。思い切りハワイ島ファンになりました。
取り敢えず、信州に戻って、訪ねる皆様が信州ファンになって頂くように努力する事!
A coconut on a black sand beach.
This is a sight we can definitely never see in Nagano.
Our stay in Hawaii was just one week, but even a whole month wouldn't have been enough. There was so much to see and do. On our last day, I got to try out surfing — and I'm hooked! The Big Island did a great job of seducing me to its charms.
Now it's back to Nagano, and back to my job as an innkeeper, trying to seduce our guests to Nagano's charms!