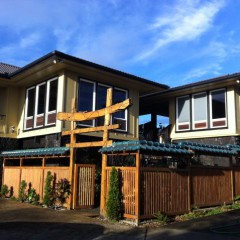 写真は弟の家です。
鳥居の様な門。瓦。
これは日本じゃない。
ハワイ島のヒロ市です。
弟の家の県知佳が日系人だったそうです。中に骨董品の欄間もあって、尚且つハワイの代表のコアの木の内装。
兄弟で一人は日本の伝統的な温泉宿を守り、一人はハワイ島で日本的な家に住んでいる。
不思議なつながり。
This is a picture of my middle brother's house in Hilo.
A gate that looks like it's from a Shinto Shrine.
Traditional 'Kawara' roof tiles.
His house looks like it belongs in Japan, not Hawaii.
It turns out the architect is Japanese, and he infused the house with details from his home country. You should see the antique 'ranma' transoms in the master bedroom...
もっと読む