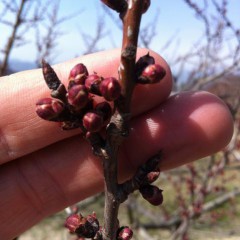 今年の冬は長くて、寒くて、長くて…
春はいつ来るかな?
戸倉上山田温泉の周辺で一番注目されている春の花は森「日本一あんずの里」の杏の木です。3月23日に花咲き様子を見に行きました。春よ来いと思ったら、
まだつぼみでした。
平成25年の森「日本一あんずの里」のあんずまつりは4月6日~4月21日の予定。
This has been a long and cold and, did I mention, long winter here in Nagano.
When will Spring come?
Our main spring flower event for Togura Kamiyamada Onsen is the Apricot Blossom Festival in nearby Mori. On the 23rd, I drove over to see if there was any sign of spring coming.
But the apricot trees still just had buds, no flowers.
The 2013 Mori Apricot Blossom Festival is scheduled for April 6th to the 21st.