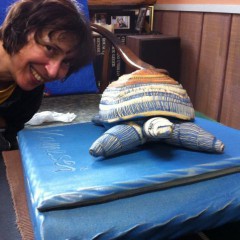 亀清旅館は上山田の陶芸家Agnesさんに頼んで、小さいお風呂の湯口のオブジェを作ってもらった。日本の伝統陶芸とハンガリー生まれのAgnesさんのセンスというコラボレーションからこの亀が生まれました。
女湯の灰色タイルに合わせた彩りの色合いでオリジナルの亀がです。そのお風呂にお入りになっているお客さんがこの新しいアートを楽しんで頂けます。
ちなみに、「亀」ってもう一つな呼び方が「六蔵」だそうです。六本の出っ張りが蔵のような体にはいるから。
Agnesさんの作ってくれた亀は六蔵さんという名前をつけようと思っています。「六蔵風呂」の響きはどうですか?
We commissioned a local ceramic artist, Agnes-san, to make a turtle for our ladies bath. We will place it on the onsen spout.
Originally from Hungary, Agnes uses her European stylistics with traditional Japanese ceramic techniques in her art. She matched the grey colors of the bath's tiles with a splash of blues and greens. A beautiful, colorful addition to the bath, one that our guests will be sure to enjoy as they soak in the onsen bath.
In Japanese, turtle is usually called 'kame' as in Kamesei. However, there is another way to call it: Rokuzo. Roku means 6, as in a turtle's 6 appendages that retract into its storehouse, or 'zo', shell. So that's what we're calling this new creation by Agnes: Rokuzo-San. What do you think of that as a name for the bath — Rokuzo-buro?